Imagine every time you hit a drum, the sound waves push through walls, through hills, through oceans… The more you hit your drum, the deeper you go. Imagine that those sound waves are in fact timelines. When you touch your drum, you are touching the history of mankind.
Drumming as a "healing modality has recently become popularized," writes Christine Stevens, author of The Healing Drum Kit Guidebook. People are returning to their roots, remembering how in ancient times, rhythm was not just used as entertainment, but as a healing tool for individuals, communities, even the environment. So, it makes sense that drum circles often focus on traditional rhythms, and instrumentation, such as West African Econcon or North African Ayube. However, in my Recycled Rhythms program, we focus on recognizing, absorbing, organizing, and complimenting the rhythms in our present-day life, inspiriting a fresh perspective for the future.

Rhythms in our present-day lives can be organized into the following categories: personal, social, and environmental. We will explore internal rhythms, such as our breathing… The rhythms in communication, such as the pauses in both sharing and listening to ideas… The rhythms that dictate our daily routines, such as the frequency of our cell phones ringing…
Our drumming ancestors were also inspired by the rhythms within them and surrounding them, like the heart beat pulse you feel in the bass drum of a traditional Brazilian Bossa Nova beat. But so much has changed. For example, our ancestors studied the rhythms of the sun and moon but now we experience the rhythms of our alarm clocks.
That being said, so much still can and will change.  How can we boost our immune systems? How can we be better allies? How can we respond to the constant vibrations of email notifications in our back pocket? How can we just be? Be present?
…Drum circles.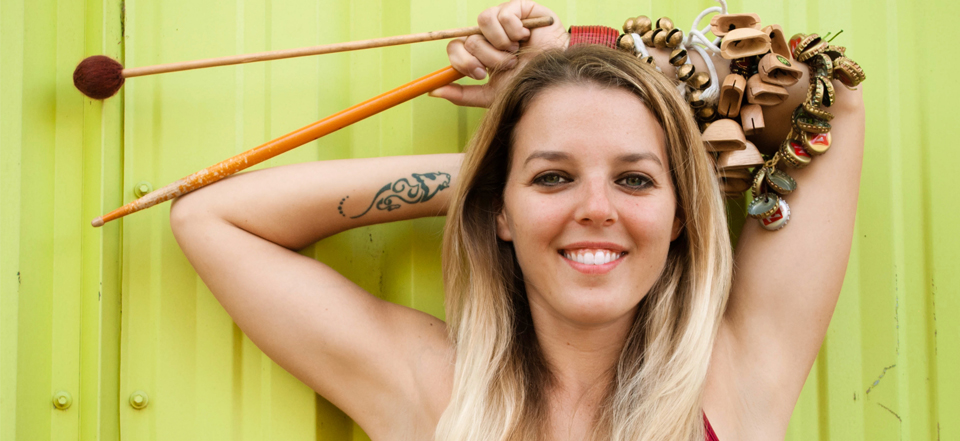 As I pound on my drum and venture to the beginning of mankind, before the invention of drums… We were slapping our legs and chests and using rocks, sticks, and bones for instruments. Inspired by this, my program is a theatrical, interactive percussion and movement experience that explores sounds from objects in our every day lives and from just our bodies, such as tapping on buckets and clapping our hands.
Recycled Rhythms is fun, high energy banging and dancing that follows a more devised process where, using improvisation, participants inspire each other with rhythms they are naturally drawn to, knowingly or unconsciously. Participants organically transform into an ensemble that can conduct itself, perhaps even invent new rhythms… 
To sum up… We need rhythm in order to survive and when we reconnect with those pulses, we are empowered on many levels: heightening the participant, strengthening the bond between participants and their surroundings, and ultimately raising new reflective questions.
Recycled Rhythms is catered to the specific goals and needs of the group or organization and can include 10-40 participants! I offer Recycled Rhythms both as a regularly meeting class or as a single workshop. For example, for one year, I facilitated a club that met every Monday for one hour at a United Methodist Church, which resulted in a final performance.  (This class ranged from kiddos to grandmas, all new to drumming!) Also, I have hosted workshops open to the public, such as at Art Outside Festival and Creative Action's Community Art Sunday.
To request a class or workshop, please contact me by email!